Courtesy of www.electronicsmaker.com
Kilian Frank, Senior Manager Product Strategy, u-blox
Delivering next generation Wi-Fi and Bluetooth connectivity to the car
We all take access to Wi-Fi connectivity for granted. Whether in our office, at home or at our favourite coffee shop, Wi-Fi offers us computing and communications mobility. As Wi-Fi consumers we have also started to expect it on the move. In-car Wi-Fi connectivity is starting to become a lot more popular as a way of connecting both built-in and occupant-owned devices. But it is not only Wi-Fi that's in the car. The Bluetooth standard has been used for many years to connect the smartphone to a vehicle's hands-free function. Bluetooth is set to continue as a key enabler for a number of in-vehicle applications, from audio streaming to the car's stereo system, to using a smartphone to unlock the car doors. For these reasons, when designing wireless connectivity for automotive applications, both Wi-Fi and Bluetooth are key.
Aside from pure telephony applications, where Bluetooth has historically been preferred, the main area of growth has come from serving up media content for the occupants from an infotainment system. For that, Wi-Fi has been put to good use. Figure 1 below illustrates some application examples.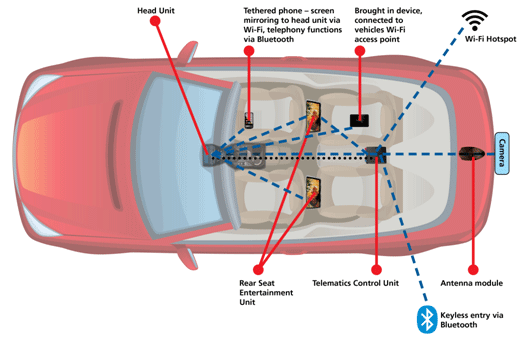 Wi-Fi can now be used to stream video content, to provide navigation maps to an in-car display, and even to connect a rear-view camera. As these functions, in addition to Wi-Fi screen applications based on  Apple Car Play, Android Auto and MirrorLink, become more ubiquitous, high speed Wi-Fi will become a fundamental part of automotive electronics rather than being considered a mere luxury.
Published in late 2009, the 802.11n standard has become the defacto Wi-Fi connection, adding much improved network throughput over the previous 802.11a and 802.11g standards. Increasing the theoretical maximum throughput from 54 to 600 Mbps, it was also the first standard to add support for multiple-in multiple-out (MIMO) streams, frame aggregation and several security improvements. It can be used on both 2.4 GHz and 5 GHz bands. Technically, 802.11n SISO can provide data rates up to 150 Mbps that for today's growing needs is not sufficient. Gaining approval in early 2014, the 802.11ac standard is designed solely for 5 GHz operation and has a stated maximum multi-station throughput of just over 1 Gbps and a practical single link speed approaching 450 Mbps. Figure 2 illustrates the major differences between the .11n and .11ac standards.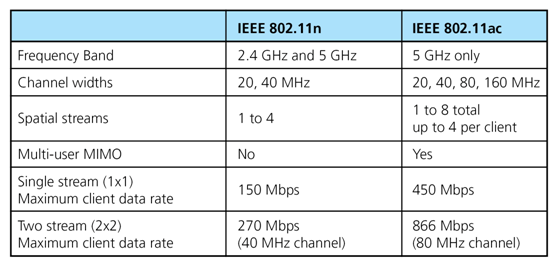 Faced with implementing both Wi-Fi and Bluetooth and getting products to market quickly, the agile development team will most likely opt to select a multi-radio module for their design. Creating a discrete transceiver design is always a possibility, but modules offer a pre-certified approach that would most likely mean you could have your design working at a prototype stage before finishing a discrete specification.
When selecting a module for automotive Wi-Fi and Bluetooth applications, engineers need to consider a number of key criteria. High Wi-Fi data rates and the ability to concurrently operate as Wi-Fi access point (AP), station (STA) or in direct mode (P2P) are key criteria.
Needless to say that simultaneous Wi-Fi and Bluetooth operation will also be a key requirement. For optimal performance and co-existence of the two standards, the module should have separate front-ends for Wi-Fi and Bluetooth, and allow for designs with separate Wi-Fi and Bluetooth antennas.
For Bluetooth, the module should offer Bluetooth v4.2 Dual Mode since this enables connectivity to both Bluetooth Classic and Bluetooth LE devices and enables the implementation of future LE use-cases, such as key-less entry.
The EMMY-W1 and JODY-W1[1] from u-blox are examples of wireless modules designed specifically for automotive applications.


The miniature EMMY-W1 module supports the 802.11ac standard while still being backwards compatible to older Wi-Fi standards. Capable of PHY data rates of up to 433 Mbps, it can provision bandwidth intensive applications such as handling multiple video streams and/or map views. It can also provide simultaneous 2.4 and 5 GHz operation, offers either 64- or 128-bit AES hardware encryption and is equipped with SDIO 3.0 and UART compliant host interfaces. Bluetooth support includes Classic and Low Energy (v4.2. Dual mode). The module also provides NFC connectivity and is also offered in variants prepared for co-location of an LTE antenna. Meeting the need of higher-end designs, the JODY-W1 series incorporates MIMO technology, taking the available bandwidth capabilities even higher.
The EMMY-W1 evaluation board is also available to speed the design of the end-system. The board provides the ideal prototyping platform to connect to the host application by providing full access to all the modules interfaces including SDIO, UART, and PCM/I2S. SMA sockets allow mounting of antennas (included) to both Wi-Fi and Bluetooth transceivers and an integrated NFC antenna is mounted on the board. Drivers for Linux, Android are available royalty free.

The 802.11ac standard promises to help unleash a raft of new applications in our cars. Automotive and after-market manufacturers will be keen to get their solutions into market as soon as possible. The availability of compact multi-band radio modules and supporting evaluation kits and drivers will ensure engineers have the tools to deliver against such goals in the shortest time available.