Courtesy of Qorvo
The Qorvo® RF Flex™ family of products delivers these benefits for 4G LTE mobile devices, to provide regional phone designers with flexible RF front-end architectures targeted for rapidly changing markets.
Leveraging Qorvo's industry-leading product and technology portfolio and deep systems-level expertise, RF Flex integrates core cellular transmit and receive functionality into high-performance modules to deliver best-in-class performance in a small solution size.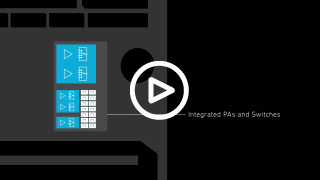 Learn how RF Flex™ provides regional scalability as market conditions evolve. Watch Video
OPTIMIZED RF SOLUTION FOR REGIONAL HANDSETS

REGIONAL DESIGN
The RF Flex portfolio offers adaptability to design handsets for regional cellular markets, accelerating customers' time to market.

SCALABLE
RF Flex is a scalable platform with industry-leading performance in a small solution size.

ADVANCED TECHNOLOGY
RF Flex leverages Qorvo's advanced PA, switch and filter technologies for optimized integration.
Visit Qorvo website here: www.qorvo.com